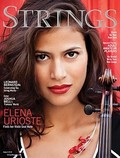 In the summer of 2018, violin virtuoso Elena Urioste talked to Strings about her concert instrument—a 1706 Alessandro Gagiliano on loan to her from the Stradivari Society—and both ended up on the cover of the magazine's August issue.

Elena Urioste and Michael Brown have released their debut recording on the BIS label.
Repertoire includes:
Strauss - Sonata
Ravel - Sonate Postume
Amy Beach - Romance
Michael Brown - Echoes of Byzantium
Zankel Hall was the venue for a special concert entitled Laureates of the Sphinx Competition on May 3, 2018...The artists presented, in addition to being fine musicians, have dedicated themselves to furthering the mission of music by spearheading their own groups.
— New York Concert Review