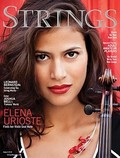 In the summer of 2018, violin virtuoso Elena Urioste talked to Strings about her concert instrument—a 1706 Alessandro Gagiliano on loan to her from the Stradivari Society—and both ended up on the cover of the magazine's August issue.


In their liner notes for this string of estrellitas ('small stars'), Elena Urioste and Tom Poster admit to a shared love for 'an old-world, golden sound and for melodies that tug at the heartstrings.' This has resulted in a deeply personal collection of miniatures full of winks, sighs and tears aimed at transporting the listener to bygone eras of fireside salon concerts. With a few exceptions, including Elgar's Chanson de Nuit and Salut d'amour, the pieces are arrangements by the great violinists of that bygone, golden age: Auer, Kreisler, Zimbalist, Heifetz … while the originals they are based upon range from Gluck's Melodie from Orpheus and Euridice and Liszt's Consolation No. 3 to Beau soir by Debussy and Estrellita by Manuel Ponce. In a closing section Elena Urioste and Tom Poster also pay their respects to the Great American Songbook, with new arrangements, signed Tom Poster, of Moon River, When I Fall in Love and Over the Rainbow.
Elena Urioste drew out the expansive themes of the first movement before an explosive cadenza. The shimmering opening to the slow movement was conveyed with supreme sensitivity, with intimate passages of gossamer lightness.
— The Northern Echo