The multi-award-winning Spanish clarinetist José Franch-Ballester is considered one of the finest classical soloists and chamber music artists of his generation.
He has been hailed for his
"technical wizardry and tireless enthusiasm"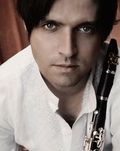 Canada's University of British Columbia has appointed Jose Franch-Ballester Assistant Professor of Clarinet and Chamber Music, beginning with the 2017-18 academic year. He and his family will relocate to Vancouver from Spain during the summer of 2017. The appointment was announced by UBC on May 5, 2017. Click here for the full press release.

Recorded with Camerata Pacifica.
José Franch-Ballester tossed André Messager's Solo de Concours off with aplomb, playing with a reedy tone and with brilliant technique. He is a natural onstage...he is also a musician of some depth. He gave a poised account of [Brahms' Sonata No. 1 in f minor]...Mr. Franch-Ballester played with technical wizardry and tireless enthusiasm.
— The New York Times