"a mature artist, with incredible confidence and conviction combined with beautiful tone and deep understanding of the music"
--Mei-Ann Chen, Music Director, Chicago Sinfonietta
American violinist Melissa White has enchanted audiences around the world as both a soloist and a chamber musician. A first-prize laureate in the Sphinx Competition, Ms. White has received critical acclaim for solo performances with some of America's leading ensembles, including the Cleveland Orchestra, the Boston Pops, and the Atlanta, Baltimore, Colorado, Detroit, and Pittsburgh symphony orchestras.
In the 2017-18 season White makes her solo debut with the National Philharmonic (North Bethesda, Maryland) performing the Brahms Violin Concerto, and returns to the Chicago Sinfonietta, where she will partner with fellow Sphinx Laureate Ifetayo Ali-Landing in Saint-Saëns's La muse et le poète for violin, cello and orchestra.
Ms. White is a founding member of New York-based Harlem Quartet.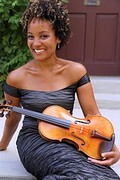 As an orchestral soloist and a member of the highly acclaimed Harlem Quartet, Melissa White has thrilled concert audiences on five continents with the sound of her violin. Now the sound of that violin is bringing a different kind of thrill to audiences well outside the concert hall ...
Strathmore's National Philharmonic is commemorating two composers for whom major anniversaries flank this anno Domini 2019: Leonard Bernstein (who would have turned 100 last year) and Beethoven (born in 1770); Saturday's concert was the first of two.
— ConcertoNet.com