"One of the leading figures in the current
renaissance of performer-composers"
—The New York Times
"A young piano visionary"
—The New York Times
"Michael Brown plays and thinks like a composer. I am deeply impressed by this composer-pianist's inquisitive mind and refreshing spirit."
– Sir András Schiff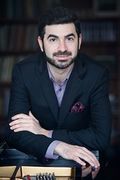 Pianist-composer Michael Brown, who has appeared multiple times with the New Haven Symphony Orchestra since his appointment as that orchestra's New Generation Artist in 2011, will return to the NHSO stage twice during the 2017-18 season, while also beginning a two-year term as its composer-in-residence. On September 28, 2017, he will partner with cellist Nicholas Canellakis and violinist Elena Urioste in performing

Elena Urioste and Michael Brown have released their debut recording on the BIS label.
Repertoire includes:
Strauss - Sonata
Ravel - Sonate Postume
Amy Beach - Romance
Michael Brown - Echoes of Byzantium
Michael Brown at the Steinway played with thrilling verve and clarity [in Prokofiev's D-Major Sonata for Violin and Piano] ... Kristin Lee, a beauty in black, was so impressive in her technical command, with Mr. Brown an ideal colleague in both the passion and beauty of his playing. As the duo embraced at the end of their superb performance, the audience lavished well-deserved cheers upon them.
— Oberon's Grove