"One of the leading figures in the current
renaissance of performer-composers"
—The New York Times
"One of the most refined of all pianist-composers"
—International Piano
"Michael Brown plays and thinks like a composer. I am deeply impressed by this composer-pianist's inquisitive mind and refreshing spirit."
– Sir András Schiff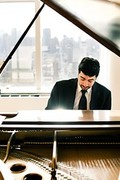 Lincoln Center for the Performing Arts has named pianist/composer Michael Brown a 2018 Emerging Artist, one of a select group of rising young talents associated with Lincoln Center's eleven resident organizations.

Felix MENDELSSOHN (1809-1847): Preludes and Fugues, Op. 35: Nos. 1, 2, 3 & 6
Leonard BERNSTEIN (1918-1990): Touches (1981)
Michael BROWN (b. 1987): Chant and Fugue (2013); Thoughts (2015)
Ludwig Van BEETHOVEN (1770-1827): 15 Variations and Fugue in E flat major, Op. 35, 'Eroica Variations'
The Concerto No. 1, tricky for the conductor, is a brilliant showpiece for piano. It's clear Shostakovich wrote it for himself to play. It's a substantial, meaty piece of music, which generally means it's also a handful...Brown, a past Rising Star of the Gilmore Keyboard Festival, returned to West Michigan to give a performance that was clean and precise but still with an undercurrent of passion just below the surface.
— grsymphony.org