"One of the leading figures in the current
renaissance of performer-composers"
—The New York Times
"A young piano visionary"
—The New York Times
"Michael Brown plays and thinks like a composer. I am deeply impressed by this composer-pianist's inquisitive mind and refreshing spirit."
– Sir András Schiff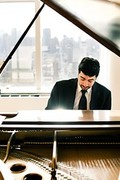 Lincoln Center for the Performing Arts has named pianist/composer Michael Brown a 2018 Emerging Artist, one of a select group of rising young talents associated with Lincoln Center's eleven resident organizations.
Samuel Adler: Piano Concerto No. 1
Brandenburg State Symphony of Frankfurt
Emily Freeman Brown, conductor
Michael Brown, piano
The Jupiter String Quartet gave an exciting concert of chamber music on Nov. 30 in the Foellinger Great Hall. The quartet members, Nelson Lee and Meg Freivogel, violins, Liz Freivogel, viola, and Daniel McDonough, cello, were joined by pianist Michael Brown, who is also currently composer in residence with the New Haven Symphony in Connecticut.
— The News-Gazette (Urbana, Illinois)