"One of the leading figures in the current
renaissance of performer-composers"
—The New York Times
"One of the most refined of all pianist-composers"
—International Piano
"Michael Brown plays and thinks like a composer. I am deeply impressed by this composer-pianist's inquisitive mind and refreshing spirit."
– Sir András Schiff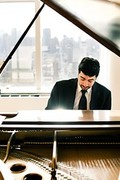 Lincoln Center for the Performing Arts has named pianist/composer Michael Brown a 2018 Emerging Artist, one of a select group of rising young talents associated with Lincoln Center's eleven resident organizations.

Felix MENDELSSOHN (1809-1847): Preludes and Fugues, Op. 35: Nos. 1, 2, 3 & 6
Leonard BERNSTEIN (1918-1990): Touches (1981)
Michael BROWN (b. 1987): Chant and Fugue (2013); Thoughts (2015)
Ludwig Van BEETHOVEN (1770-1827): 15 Variations and Fugue in E flat major, Op. 35, 'Eroica Variations'
Michael Brown, who played a piano recital Sunday afternoon as part of the Steinway Series at the Smithsonian Museum of American Art, is identified as a pianist-composer, that musical persona with a glorious past. Pianist-composers go back to the likes of Mozart, Clementi and Beethoven in the late 18th century and had their heyday in such figures as Liszt, Chopin and Gottschalk. But after the careers of Rachmaninoff, Bartok and Prokofiev in the mid-20th century, there was a distinct falling off. Presumably Brown would like to change that.
— The Washington Post