Piotr Gajewski is Music Director and Conductor of the National Philharmonic, in residence at the Music Center at Strathmore outside Washington, D.C., and is widely credited with building the Philharmonic into one of the Washington metropolitan area's most respected ensembles. He is also much in demand as a guest conductor, having recently conducted orchestras that include the Royal Liverpool Philharmonic, the Buffalo Philharmonic, the Warsaw Philharmonic and most other major orchestras in his native Poland.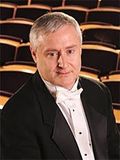 The Koscuiszko Foundation honors Piotr Gajewski as the 2016 recipient of the Pioneer Award at their Annual Gala Dinner in Washington, D.C.
National Philharmonic's performance of Pictures at an Exhibition was exquisite. Musical director and conductor Piotr Gajewski demonstrated expert command of the orchestra and created an atmospheric sound that, without question, stayed true to Mussorgsky's musical intentions.
— mdtheatreguide.com