Piotr Gajewski is Music Director and Conductor of the National Philharmonic, in residence at the Music Center at Strathmore outside Washington, D.C., and is widely credited with building the Philharmonic into one of the Washington metropolitan area's most respected ensembles. He is also much in demand as a guest conductor, having recently conducted orchestras that include the Royal Liverpool Philharmonic, the Buffalo Philharmonic, the Warsaw Philharmonic and most other major orchestras in his native Poland.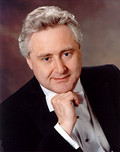 The National Philharmonic and Piotr Gajewski have signed an agreement that renews Gajewski's tenure as music director and conductor, and have announced that "two anticipated extensions" of his contract would keep him at the helm of the orchestra through the 2024-25 season.
All orchestras worthy of the name have personalities, and no two are alike. Compared with some American orchestras — the 177-year-old New York Philharmonic, for instance — the National Philharmonic is still a relative toddler. But it most definitely has a distinctive personality, as I am pleasantly reminded once or twice a season, when I hear them at Strathmore.
— The Washington Post