Piotr Gajewski is Music Director and Conductor of the National Philharmonic, in residence at the Music Center at Strathmore outside Washington, D.C., and is widely credited with building the Philharmonic into one of the Washington metropolitan area's most respected ensembles. He is also much in demand as a guest conductor, having recently conducted orchestras that include the Royal Liverpool Philharmonic, the Buffalo Philharmonic, the Warsaw Philharmonic and most other major orchestras in his native Poland.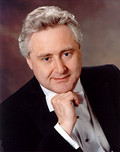 The National Philharmonic and Piotr Gajewski have signed an agreement that renews Gajewski's tenure as music director and conductor, and have announced that "two anticipated extensions" of his contract would keep him at the helm of the orchestra through the 2024-25 season.
The National Philharmonic, led by Music Director and Conductor Piotr Gajewski, is easily one of the most beloved symphony orchestras in the greater Washington, DC metropolitan area...It cannot be stressed enough that it's one thing to hear a piece performed to perfection live, but it's another thing entirely to watch highly trained orchestral musicians who actually enjoy performing.
— mdtheatreguide.com