Winner of the Naumburg International Violin Competiton, and recipient of an Avery Fisher Career Grant, Tessa Lark is a standout soloist and chamber musician. At age 16, she performed with the Cincinnati Symphony Orchestra and has gone on to appear with such renowned musicians as Itzhak Perlman, Pamela Frank, Kim Kashkashian, and others.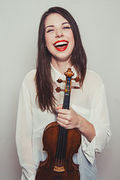 On February 18, 2018, Tessa Lark will perform the world premiere of Love Letters, a new work for violin and orchestra by Michael Thurber, with Indiana's Carmel Symphony Orchestra under the direction of Music Director Janna Hymes. Love Letters was written specifically for Tessa and incoporates elements of jazz, hip-hop, and rock as well as the fiddling tradition of her native Kentucky—a tradition that the violinist frequently showcases along with pieces from her large classical repertoire in both recitals and concerto engagements. Two other works on the Carmel Symphony's February concert will also feature Tessa: Mozart's Adagio in E Major, K. 261, and Saint-Saens's Introduction and Rondo Capriccioso.


Tessa Lark's debut CD explores the musical form of the Fantasy from the Baroque period through the present day.
Works include Telemann Fantasias, Schubert's Fantasie in C Major, Ravel's Tzigane, the Viennese Rhapsodic Fantasietta by Fritz Kreisler, and Ms. Lark's own "Appalachian Fantasy."
The album's producer is four-time Grammy award-winner Judith Sherman.
It's astonishing that it has taken almost 20 years for Edgar Meyer's Violin Concerto to be heard anywhere in Illinois, let alone Chicago... [and] Tessa Lark provided superb advocacy as solo protagonist. She coaxed a gorgeous tone from her "ex-Gingold" Stradivarius and was wholly in sync with the music.
— Chicago Classical Review