Violinist Tessa Lark is one of the most captivating artistic voices of our time. A 2020 GRAMMY nominee in the Best Classical Instrumental Solo category, recipient of a 2018 Borletti-Buitoni Trust Fellowship and a 2016 Avery Fisher Career Grant, Silver Medalist in the 9th Quadrennial International Violin Competition of Indianapolis, and winner of the 2012 Naumburg International Violin Competition, she has consistently been praised by critics and audiences for her astounding range of sounds, technical agility, and musical elegance. A budding superstar in the classical realm, she is also a highly acclaimed fiddler in the tradition of her native Kentucky, delighting audiences with programming that includes Appalachian and bluegrass music and inspiring composers to write for her.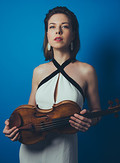 NPR's From the Top, the nationally distributed radio program showcasing America's brightest young classical musicians, has named violinist Tessa Lark to a newly formed team of co-hosts and creative artists beginning with the 2020-21 season. CLICK HERE to read more.

Georg Philipp TELEMANN (1681–1767)
Fantasie No. 1 in B flat Major
Franz SCHUBERT (1797–1828)
Fantasie in C Major, D. 934 *
Tessa LARK (1990–)
Appalachian Fantasy
TELEMANN
Fantasie No. 4 in D Major
Fritz KREISLER (1875–1962)
Viennese Rhapsodic Fantasietta *
TELEMANN
Fantasie No. 5 in A Major
Maurice RAVEL (1875-1937)
Tzigane*
Tessa Lark, violin Amy Yang, piano*
Recorded at the American Academy of Arts and Letters, New York, USA
Produced by Judith Sherman
Lark and Thurber's careful attention to the entrances and exiting of their bows on the strings were sonically and visually beautiful. A potpourri of American cultural elements — Appalachian music, bluegrass, jazz, and contemporary and classical stylizations — blended with ease and fluidity.
— CT Examiner