A budding superstar in the classical realm, Tessa Lark has been consistently praised by critics and audiences for her astounding range of sounds, technical agility, and musical elegance.
Silver Medalist in the 2014 International Violin Competition of Indianapolis, recipient of a 2018 Borletti-Buitoni Trust Fellowship and a 2016 Avery Fisher Career Grant, and winner of the 2012 Naumburg International Violin Competition, Tessa is also a highly acclaimed fiddler in the tradition of her native Kentucky, delighting audiences with programming that includes Appalachian and bluegrass music and inspiring composers to write for her.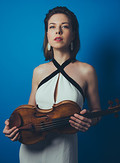 Violinist Tessa Lark has added another major award to her string of accomplishments: a £20,000 Fellowship from the UK-based Borletti-Buitoni Trust.


Spoon Bread is a three movement work written by Michael Torke for violinist Tessa Lark, with Roman Rabinovich, piano.

A Carnegie Hall commission, Ms. Lark and Mr. Rabinovich gave the work its World Premiere on February 2, 2017 as part of Carnegie's Distinctive Debuts series at Weill Recital Hall.
The projectile whizzed past Tessa Lark's ear just as she was trying to put into words what makes the Marlboro Music School and Festival here so special. Ms. Lark, a violinist, was eating dinner last Saturday at a long table crowded with musicians and their families. Later in the evening, she was to perform Brahms's Piano Quintet alongside the pianist Mitsuko Uchida, Marlboro's artistic director.
— The New York Times