Winner of the Naumburg International Violin Competiton, and recipient of an Avery Fisher Career Grant, Tessa Lark is a standout soloist and chamber musician. At age 16, she performed with the Cincinnati Symphony Orchestra and has gone on to appear with such renowned musicians as Itzhak Perlman, Pamela Frank, Kim Kashkashian, and others.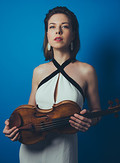 Violinist Tessa Lark has added another major award to her string of accomplishments: a £20,000 Fellowship from the UK-based Borletti-Buitoni Trust.
Tessa Lark's debut CD explores the musical form of the Fantasy from the Baroque period through the present day.
Works include Telemann Fantasias, Schubert's Fantasie in C Major, Ravel's Tzigane, the Viennese Rhapsodic Fantasietta by Fritz Kreisler, and Ms. Lark's own "Appalachian Fantasy."
The album's producer is four-time Grammy award-winner Judith Sherman.
Tessa Lark's appearance last Sunday in the Phillips Collection's weekly concert series was a touchstone of the Washington concert season. Lark's performance specialty is communicative immediacy, removing the violin from its above-it-all "diva" status among orchestra instruments into a direct narrative interplay with the audience's ears.
— DC Metro Theater Arts