A budding superstar in the classical realm, Tessa Lark has been consistently praised by critics and audiences for her astounding range of sounds, technical agility, and musical elegance.
Silver Medalist in the 2014 International Violin Competition of Indianapolis, recipient of a 2018 Borletti-Buitoni Trust Fellowship and a 2016 Avery Fisher Career Grant, and winner of the 2012 Naumburg International Violin Competition, Tessa is also a highly acclaimed fiddler in the tradition of her native Kentucky, delighting audiences with programming that includes Appalachian and bluegrass music and inspiring composers to write for her.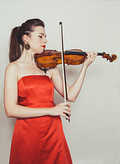 Multiple award-winning violinist Tessa Lark, a rising star in the classical realm and an acclaimed fiddler, notches several new career milestones this season and next, with a recital debut on Lincoln Center's Great Performers series, a four-concert engagement with Australia's Musica Viva Festival, concerto debuts with the Seattle and Indianapolis symphonies, and performances with the prestigious Seattle Chamber Music Society. CLICK HERE to read more.

Georg Philipp TELEMANN (1681–1767)
Fantasie No. 1 in B flat Major
Franz SCHUBERT (1797–1828)
Fantasie in C Major, D. 934 *
Tessa LARK (1990–)
Appalachian Fantasy
TELEMANN
Fantasie No. 4 in D Major
Fritz KREISLER (1875–1962)
Viennese Rhapsodic Fantasietta *
TELEMANN
Fantasie No. 5 in A Major
Maurice RAVEL (1875-1937)
Tzigane*
Tessa Lark, violin Amy Yang, piano*
Recorded at the American Academy of Arts and Letters, New York, USA
Produced by Judith Sherman
"Love Letter" seemed to focus on bluegrass flavor, with touches of things classical. It embraced lyricism, dance-like energy and meditative moments, qualities which Lark emphasized in a compelling performance....Lark was one with the piece, as was the packed house with it and her.
— Virginia Gazette