Winner of the Naumburg International Violin Competiton, and recipient of an Avery Fisher Career Grant, Tessa Lark is a standout soloist and chamber musician. At age 16, she performed with the Cincinnati Symphony Orchestra and has gone on to appear with such renowned musicians as Itzhak Perlman, Pamela Frank, Kim Kashkashian, and others.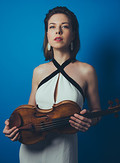 Violinist Tessa Lark has added another major award to her string of accomplishments: a £20,000 Fellowship from the UK-based Borletti-Buitoni Trust.
Tessa Lark's debut CD explores the musical form of the Fantasy from the Baroque period through the present day.
Works include Telemann Fantasias, Schubert's Fantasie in C Major, Ravel's Tzigane, the Viennese Rhapsodic Fantasietta by Fritz Kreisler, and Ms. Lark's own "Appalachian Fantasy."
The album's producer is four-time Grammy award-winner Judith Sherman.
It was clear right away that this concerto was in very good hands, as she sailed through the first movement, carrying off those high notes with confidence and control. At the same time, the lady in red was not a grandstanding musician. She communicated deep concentration. The Adagio was the highlight. Lark showed a glorious legato singing tone in that sublime opening theme, and gave just the right whimsical touch to the trilling birdsong that comes a bit later. She has a stellar sense for dynamics.
— Buffalo News