Nicholas Canellakis, hailed by The New Yorker as a "superb young soloist," has become one of the most sought-after and innovative cellists of his generation, captivating audiences throughout the United States and abroad. In The New York Times his playing was praised as "impassioned . . . the audience seduced by Mr. Canellakis's rich, alluring tone."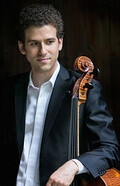 Cellist Nicholas Canellakis visits the Hill Performance Hall at Eisemann Center to join in the opening of the Richardson Symphony Orchestra's 61st season.

Barber: Sonata for Cello and Piano, Op. 6
Shostakovich: Sonata for Cello and Piano, Op. 40
Michael Brown: Five A.M. "after Allen Ginsberg"
Bulgarian Fok Tunes, arr. Nicholas Canellakis: Gankino Horo, Daichovo Horo
The Canellakis-Brown Duo—cellist Nicholas Canellakis and pianist Michael Brown—have been playing together for ten years and it shows. Their concert Tuesday night at the Baruch Performing Arts Center was a superb display of the kind of assured, responsive, sincere playing that is a pinnacle of chamber music performance yet is more often heard in jazz and other music than in classical.
— New York Classical Review