Lauded by The New York Times as "compelling, elegant, and incisive," Venezuelan pianist Gabriela Martinez is quickly establishing a reputation and earning praise as a versatile artist who combines "panache and poetry" (Dallas Morning News) with a "sense of grace and clarity" (The Star Ledger).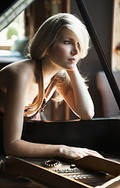 Championing the work of living American composers has long been an important part of pianist Gabriela Martinez's career. Dan Visconti's 2014 composition Amplified Soul is the title selection on her debut solo CD, a Delos release that also includes White Lies for Lomax (2007) by Mason Bates. Now Martinez is giving voice to the piano music of 39-year-old American composer Adam Schoenberg ...

Brilliant young Venezuelan pianist Gabriela Martinez has been taking the classical world by storm. She has won consistent acclaim at top domestic and international venues for her brilliant technique, aesthetic sensitivity, interpretive acumen, and emotional impact.
Recorded in the Concert Hall of The Performing Arts Center, Purchase College, State University of New York on a Steinway piano, Gabriela worked with multi-Grammy award-winning producer David Frost and Tim Martyn, senior audio engineer/technical director for the Boston Symphony Orchestra's Tanglewood Festival.
Offering a wide-ranging program of classics by Beethoven, Rachmaninoff, and Szymanowski, the recording also pays homage to two acclaimed contemporary composers Ms. Martinez has worked with - Mason Bates and Dan Visconti, whose title selection, Amplified Soul, was written for her and is heard here in its world premiere recording.
Chopin launches into his PIANO CONCERTO NO. 1 with surprisingly lush and virile orchestral writing in the Allegro maestoso: brass, flutes and French horns striding into the mix as the long intro climaxes. Although Warren-Green and Symphony were aggressive in their attitude, Martinez took a more leisurely approach, downplaying the inner dialectic between longhair rigor and liquid lyricism in the early piano soloing, settling instead into a groove that underscored the Concerto's affinity with Chopin's Nocturnes.
— Broadway World