"a mature artist, with incredible confidence and conviction combined with beautiful tone and deep understanding of the music" --Mei-Ann Chen, Music Director, Chicago Sinfonietta
American violinist Melissa White is a founding member of the New York-based Harlem Quartet. A first-prize laureate in the 2001 Sphinx Competition, Ms. White has received critical acclaim for solo performances with some of America's leading ensembles, including the Cleveland Orchestra, the Boston Pops, and the Atlanta, Baltimore, Colorado, Detroit, and Pittsburgh symphony orchestras.
In the 2017-18 season, White made her solo debut with the National Philharmonic (North Bethesda, Maryland) performing the Brahms Violin Concerto, and returned to the Chicago Sinfonietta, where she partnered with fellow Sphinx Laureate Ifetayo Ali-Landing in Saint-Saëns's La muse et le poète for violin, cello and orchestra.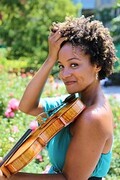 Violinist.com publishes weekly reviews of live violin performances to spread coverage and bring attention to volinists.
White's elegant playing was warmly expressive and lyrical without being overwrought.
— Chicago Classical Review