"a mature artist, with incredible confidence and conviction combined with beautiful tone and deep understanding of the music" --Mei-Ann Chen, Music Director, Chicago Sinfonietta
American violinist Melissa White has enchanted audiences around the world as both a soloist and a chamber musician. A first-prize laureate in the Sphinx Competition, Ms. White has received critical acclaim for solo performances with some of America's leading ensembles, including the Cleveland Orchestra, the Boston Pops, and the Atlanta, Baltimore, Colorado, Detroit, and Pittsburgh symphony orchestras.
In the 2017-18 season White makes her solo debut with the National Philharmonic (North Bethesda, Maryland) performing the Brahms Violin Concerto, and returns to the Chicago Sinfonietta, where she will partner with fellow Sphinx Laureate Ifetayo Ali-Landing in Saint-Saëns's La muse et le poète for violin, cello and orchestra.
Ms. White is a founding member of New York-based Harlem Quartet.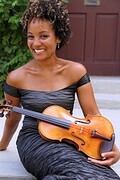 Violinist Melissa White makes her solo debut with the Cincinnati Symphony Orchestra this winter in a pair of concerts led by Music Director Louis Langrée. On a program titled "Traveling with Mozart," she will perform Mozart's Violin Concerto No. 3 in G Major, K. 216, dubbed "Strasburg" because of the theme in its opening Allegro movement. The concerts, which also include Mozart's Symphony No. 31 ("Paris") and Symphony No. 38 ("Prague"), will take place in Cincinnati's Music Hall at 7:30 pm on Saturday, March 13 and 2 pm on Sunday, March 14.
From first note to last, she projected a big, gleaming tone ... Her playing was elegant and thoughtful, and she navigated technical difficulties with an easy virtuosity.
— Cincinnati Business Courier