"One of the leading figures in the current
renaissance of performer-composers"
—The New York Times
"One of the most refined of all pianist-composers"
—International Piano
"Michael Brown plays and thinks like a composer. I am deeply impressed by this composer-pianist's inquisitive mind and refreshing spirit."
– Sir András Schiff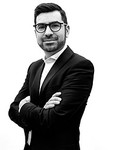 For his recital debut with Lincoln Center's Mostly Mozart Festival on July 24, 2019, pianist-composer Michael Brown performed for a rapt audience at the Kaplan Penthouse, offering a late-night program consisting of Mendelssohn's "Variations Sérieuses," his own "Folk Variations," and a set of Beethoven variations thematically linked to that composer's "Eroica" Symphony, which the Mostly Mozart Festival Orchestra had performed just minutes earlier in Lincoln Center's Geffen Hall. Here's what New York Times critic Anthony Tommasini had to say:
"Since the final movement of the 'Eroica' Symphony, which many in his audience had just heard, is an epic set of variations, Mr. Brown began with a colorful account of Mendelssohn's impetuous 'Variations Sérieuses,' then played his own flinty yet playfully pointillist 'Folk Variations.' Nodding to the orchestra's earlier program, he ended his recital with a fearless performance of Beethoven's momumental 'Eroica' Variations, in which Beethoven tried out themes later used in the symphony."

Felix MENDELSSOHN (1809-1847): Preludes and Fugues, Op. 35: Nos. 1, 2, 3 & 6
Leonard BERNSTEIN (1918-1990): Touches (1981)
Michael BROWN (b. 1987): Chant and Fugue (2013); Thoughts (2015)
Ludwig Van BEETHOVEN (1770-1827): 15 Variations and Fugue in E flat major, Op. 35, 'Eroica Variations'
The Canellakis-Brown Duo—cellist Nicholas Canellakis and pianist Michael Brown—have been playing together for ten years and it shows. Their concert Tuesday night at the Baruch Performing Arts Center was a superb display of the kind of assured, responsive, sincere playing that is a pinnacle of chamber music performance yet is more often heard in jazz and other music than in classical.
— New York Classical Review