"One of the leading figures in the current
renaissance of performer-composers"
—The New York Times
"One of the most refined of all pianist-composers"
—International Piano
"Michael Brown plays and thinks like a composer. I am deeply impressed by this composer-pianist's inquisitive mind and refreshing spirit."
– Sir András Schiff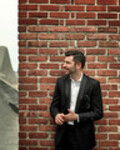 Pianist-composer Michael Brown, an artist of the Chamber Music Society of Lincoln Center, was the first musician featured in that organization's new Front Row: Artist Series—a weekly virtual concert series showcasing eight CMSLC artists. Brown also made a little bit of musical history this spring as the first artist to collaborate virtually, rather than live and in person, with educator/musicologist/composer Rob Kapilow on Kapilow's long-running What Makes It Great? program.

Felix MENDELSSOHN (1809-1847): Preludes and Fugues, Op. 35: Nos. 1, 2, 3 & 6
Leonard BERNSTEIN (1918-1990): Touches (1981)
Michael BROWN (b. 1987): Chant and Fugue (2013); Thoughts (2015)
Ludwig Van BEETHOVEN (1770-1827): 15 Variations and Fugue in E flat major, Op. 35, 'Eroica Variations'
Brown played from his own living room on "Daria," one of two late nineteenth century Steinways he owns. With shifting camera shots, one was able to witness not only his flashing fingers but his facial expressions and rapid eye movements as he tracked his physical movements up and down the keyboard. One also could glimpse his taste in art from the painting hanging on the wall behind him, and the sister Steinway ("Octavia") nestled beside Daria. How often are we invited into the intimacy of an artist's own home to hear him play where he practices?
— CVNC (Asheville, NC)