"One of the leading figures in the current
renaissance of performer-composers"
—The New York Times
"One of the most refined of all pianist-composers"
—International Piano
"Michael Brown plays and thinks like a composer. I am deeply impressed by this composer-pianist's inquisitive mind and refreshing spirit."
– Sir András Schiff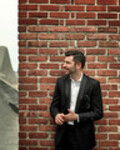 Pianist-composer Michael Brown, an artist of the Chamber Music Society of Lincoln Center, was the first musician featured in that organization's new Front Row: Artist Series—a weekly virtual concert series showcasing eight CMSLC artists. Brown also made a little bit of musical history this spring as the first artist to collaborate virtually, rather than live and in person, with educator/musicologist/composer Rob Kapilow on Kapilow's long-running What Makes It Great? program.

Felix MENDELSSOHN (1809-1847): Preludes and Fugues, Op. 35: Nos. 1, 2, 3 & 6
Leonard BERNSTEIN (1918-1990): Touches (1981)
Michael BROWN (b. 1987): Chant and Fugue (2013); Thoughts (2015)
Ludwig Van BEETHOVEN (1770-1827): 15 Variations and Fugue in E flat major, Op. 35, 'Eroica Variations'
The Canellakis-Brown Duo—cellist Nicholas Canellakis and pianist Michael Brown—have been playing together for ten years and it shows. Their concert Tuesday night at the Baruch Performing Arts Center was a superb display of the kind of assured, responsive, sincere playing that is a pinnacle of chamber music performance yet is more often heard in jazz and other music than in classical.
— New York Classical Review