"One of the leading figures in the current renaissance of performer-composers"—The New York Times
"One of the most refined of all pianist-composers"—International Piano
"Michael Brown plays and thinks like a composer. I am deeply impressed by this composer-pianist's inquisitive mind and refreshing spirit."– Sir András Schiff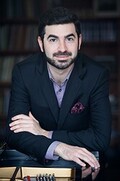 Michael Stephen Brown is set to perform his Concerto for Piano and Strings (2020) with the NFM Leopoldinum Orchestra and conductor Joseph Swensen in Wroclaw, Poland at the Main Hall of the NFM on June 12th. The concerto has recently been performed in the US by various orchestras and was co-commissioned by the Gilmore Keyboard Festival and the NFM Leopoldinum Orchestra.

Maurice Ravel: Miroirs
Nikolai Medtner: Improvisation, No. 2, Op. 47 (includes the première recordings of two movements not included in the original publication)
Recorded at the Tippet Rise Center, Montana, USA, January 2019
Produced by Adam Golka and Roman Rabinovich
This recording, titled "Noctuelles," was, for me, the auditory equivalent of love at first sight. I'd never heard composer-pianist Michael Brown perform before, but it took only the first few measures of Miroirs to convince me that I was in the presence of an exceptional colorist—and the more I listened, the more deeply that conviction took hold.
— Fanfare